Come Play & Stay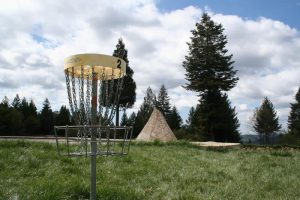 Toneys Mountain Golf is home to one of California's top disc golf courses (27 holes), which will challenge and delight even the most experienced players. Play the Famous Bowl Hole, 8 holes around a valley that boasts the famous Hole 4, which towers over 250 feet above the valley floor, and that's just the beginning.
After a great day, relax around the king size pool or settle into one of many Tepees or campsites throughout our campground for a good time and a peaceful nights sleep. In the morning, wake up to one of the most spectacular 360-degree panoramic views in California.
Toneys is Prime for Your Recreational Activities
Our 50 acres is nested in the heart of the Mother Lode, surrounded with the best the Sierra Nevada Mountains has to offer. The land borders the Tahoe National Forest and is prime for OHV riding, Hiking, Mountain Biking, or just plain relaxing. One of the worlds most preserved ancient tropical river beds is a only a hike away. So come play and stay.
Plan Your Event at Toneys

Toneys is a perfect to plan your special event. The view is breath taking and we can accommodate large groups of people. If you ever dreamed of a mountain wedding, Toneys is the place.
Toneys Wood Products Rock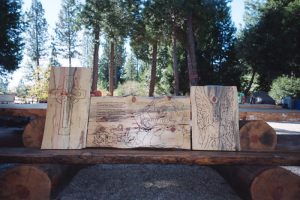 Our wood products include our famous log picnic tables, mushroom stump carvings, and much more. Each piece is handcrafted from the best trees, and then meticulously created until it meets our high standards. If you want a piece designed just for you, we also offer our customized product line.
Click here to view photos of our products.