Come Play One of California's Top Disc Golf Courses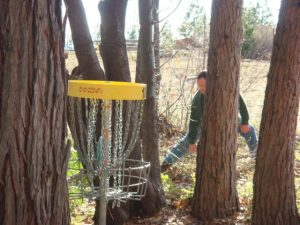 Toneys hosts one of the most challenging Disc Golf Courses on the West Coast with 18 to 27 holes. You start the first hole on a long wide open fairway that drifts to left, or right, or where ever the pin is placed that day. Then hole two is a magnificent narrow and slanted ground fairway with water hazards that come into play as you approach the greens. Then, it is off  to the Bowl Holes, hole 3  traverses the rim of the bowl. Hole 4 drops you right into the heart of it while holes 5 & 6 take you up and out the other side.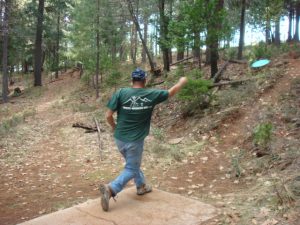 Toneys Mountain Golf is home to the famous Hole 4, which is a 200 foot drop to the bowl floor. Don't go over stable, cause you might have an adventure hike finding your plastic. It will leave you with a feeling of exhilaration that is like no other. Not matter how bad this hole beats you, like Arnold, You'll Be Back.
Click here to view course photos.
The Back Nine

The back nine sits on the mountain top This section boasts not only an enjoyable and challenging holes, but spectacular views that are only found at Mountain Golf. The back nine offers slight terrain changes with long and short open holes. Then you hit hole 16 where  you drop back into the trees. 17 will challenge your  "threading the needle" type of golf. 18 takes you up and out of the trees and into the open once again with hole 19 (watering hole)   a short walk away.
The First Ace

I On August 4, 2002 Michael Toney Jr. scored a beautiful Ace run on hole 13. Give this guy a round of applause. Way to go Michael.
| | | |
| --- | --- | --- |
| Date | Player | Hole |
| | Noah | 13 |
| | Ernie Valdez | 14 |
| August 2, 2002 | Michael Toney Jr. | 13 |
| July 9, 2003 | Logan Toney | 13 |
| April 28, 2004 | Michael Toney Sr. | 13 |
| July 2, 2004 | Pete Staats | 10 |
| August 21, 2004 | Josh Heil | 11 |
| September 24, 2004 | Dennis Heil | 14 |
| November 18, 2004 | Scott Miller | 14 |
| July 22, 2005 | Cory Kaufman | 3 |
| March 17, 2007 | Brandon Sy | 7 |
| May 26, 2007 | Billy Lane | 3 |
| May 28, 2007 | Brian Jones | 13 |
| July 1, 2007 | Brian Jones | 3 |
| July 18, 2007 | Virginia Toney | 3 |
| November 18, 2007 | John Bacon | 16 |
| November 18, 2007 | Brian Jones | 12 |
| April 20, 2008 | Brett Hamilton | 7 |
| April 24, 2008 | Brett Hamilton | 4 |
| July 3, 2008 | John Bacon | 13 |
| July 3, 2008 | Matt Guerra | 18 |
| July 23, 2008 | Tim Denton | 3 |
| August 3, 2008 | Nugget McAndrew | 15(short tee) |
| | | |
| January 18, 2009 | Dave Brumfield | 15(short tee) |
| April 27,2009 | Michael Toney Jr. | 14 |
| February 11, 2010 | Michael Toney Sr. | 13 |
| February 6, 2011 | Scott T. | 6 |
| | | |